EXPERT REMODELING SERVICES For
Buckhead Kitchen Remodeling
Experience a kitchen transformation with our remodeling services. We are ready to collaborate to bring a personalized, updated feel to these historic Buckhead homes by enhancing functionality, incorporating modern aesthetics, and preserving the charm and heritage of your home. We specialize in creating culinary spaces that are not just stunning but also perfect for social gatherings and any culinary task you've got planned.
Buckhead Bathroom Remodeling
Envision a spa-like retreat within your Buckhead home and enlist our bathroom remodeling services to bring it to life. We blend luxury with comfort, keeping in mind the heritage of your historic homes. From Victorian to contemporary, our design team is adept at creating bathrooms that are beautiful, functional, and a reflection of your style.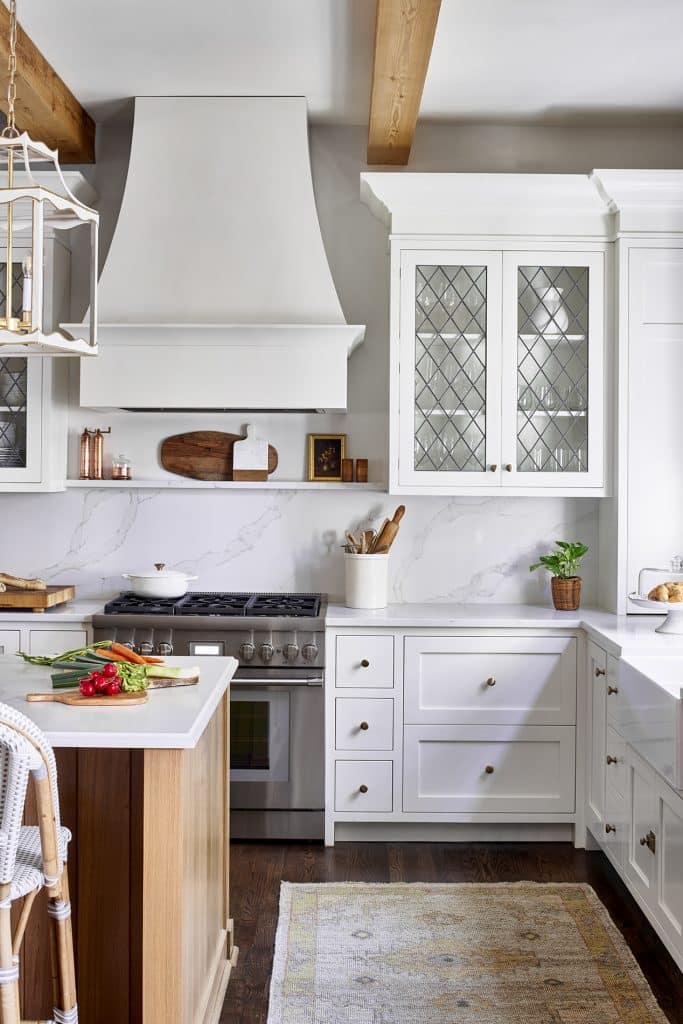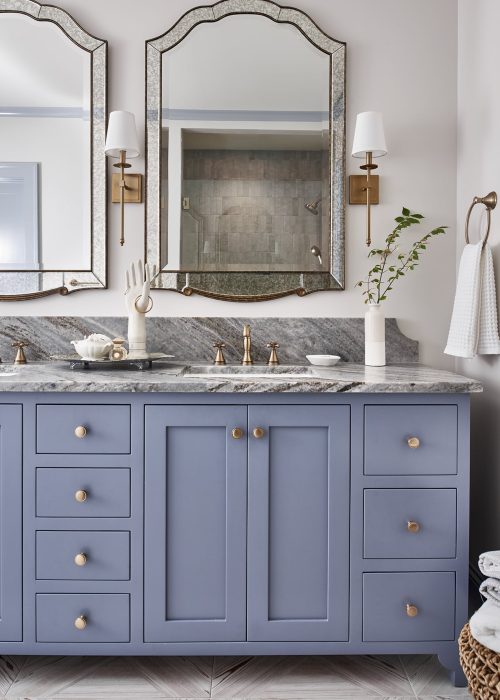 Buckhead Basement Remodeling
Unleash the potential of your home's lower level with our basement remodeling services. We turn gloomy basements into vibrant, usable spaces perfect for entertaining, relaxation, or as an extra living area. Allow us to breathe new life into your Buckhead home's basement.
Buckhead Home Renovations
Let Copper Sky help you embrace the past and the present with our whole home remodeling services. We delicately balance modernization with the preservation of your Buckhead home's historic character. Copper Sky can revitalize your home while maintaining its time-honored charm and elegance.
Buckhead Addition Remodeling
Need more space? Our addition remodeling services are perfect for growing families or changing needs. We provide seamless extensions to your Buckhead home, maintaining its architectural integrity while giving you the additional space you desire.
Buckhead Porch Remodeling
Elevate the allure of your Buckhead home with our porch and exterior remodeling services. We can create an inviting, cozy outdoor space where you can unwind and entertain. Our designs seamlessly blend with your home's existing style, enhancing its historic charm and curb appeal.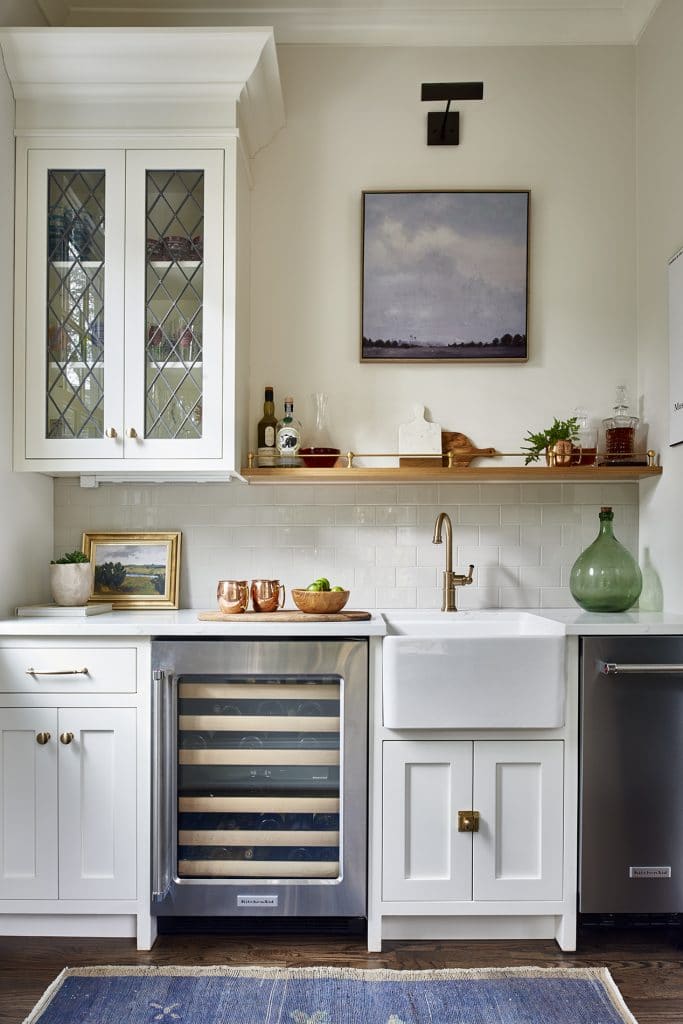 to learn more about design-build download our e-book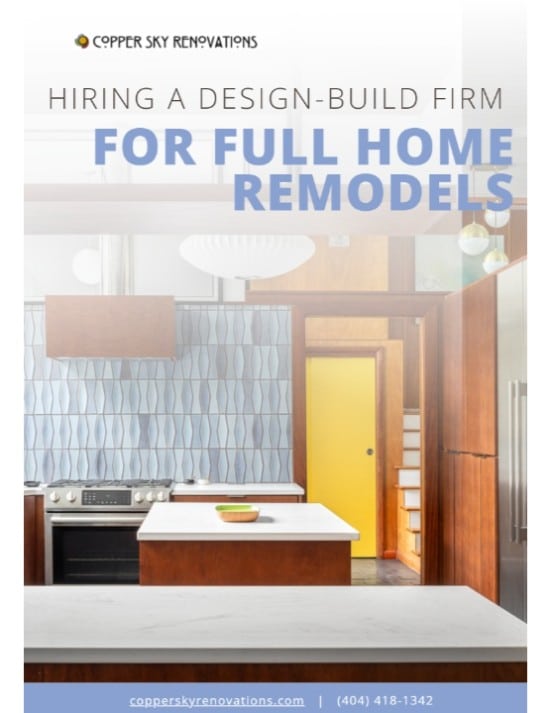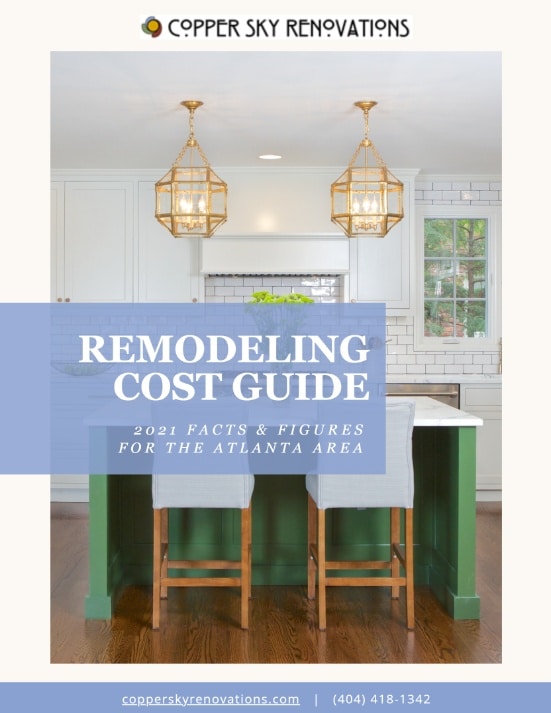 Frequently Asked Questions
Why Should I Remodel My Buckhead, GA Home?
Home remodeling is an investment in your happiness and property value. It allows you to adapt your home to your evolving lifestyle, optimize space, and enhance comfort. Buckhead homes, with their timeless appeal, offer the perfect canvas for personal expression and modern innovations, blending charm with convenience where it matters most.
Does Cooper Sky Design Build Specialize in Older Buckhead Home Renovations?
Absolutely. Copper Sky has an extensive portfolio of beautifully renovated older homes in Buckhead and beyond. We are experienced in maintaining the historical integrity of your home while introducing modern conveniences and style. Our team understands the value and uniqueness of these grand historic homes and works meticulously to preserve their character during the renovation.
Working with a Buckhead Design-Build Remodeler
What is Copper Sky Design Build's unique process?
At Copper Sky, we follow a design-build process that ensures a smooth remodeling experience. We start with a comprehensive design consultation to understand your vision. Our expert team then creates a customized design that aligns with your style and the home's character. From permitting to construction, we handle everything, maintaining transparent communication at every stage. This approach ensures consistent quality, efficiency, and a seamless remodeling experience.
INTERESTED IN a home remodel?
Check Out Our Previous Buckhead Georgia Remodels
We invite you to explore some of our favorite completed Buckhead remodeling projects for proof of our expertise. See the beautiful transformations we've made to these historic homes, adding modern comforts while maintaining their timeless charm. We'd love nothing more than to do the same for you!
Including Garden Hill, Chastain Park, East Chastain Park, Memorial Park, Peachtree Battle, Peachtree Heights East, Peachtree Heights West, Peachtree Hills, South Tuxedo Park. Is your neighborhood missing from this list? You may yet be in luck. Fill out our form to learn whether your home falls in our service area.
Start Your Buckhead Georgia Home Remodel Today